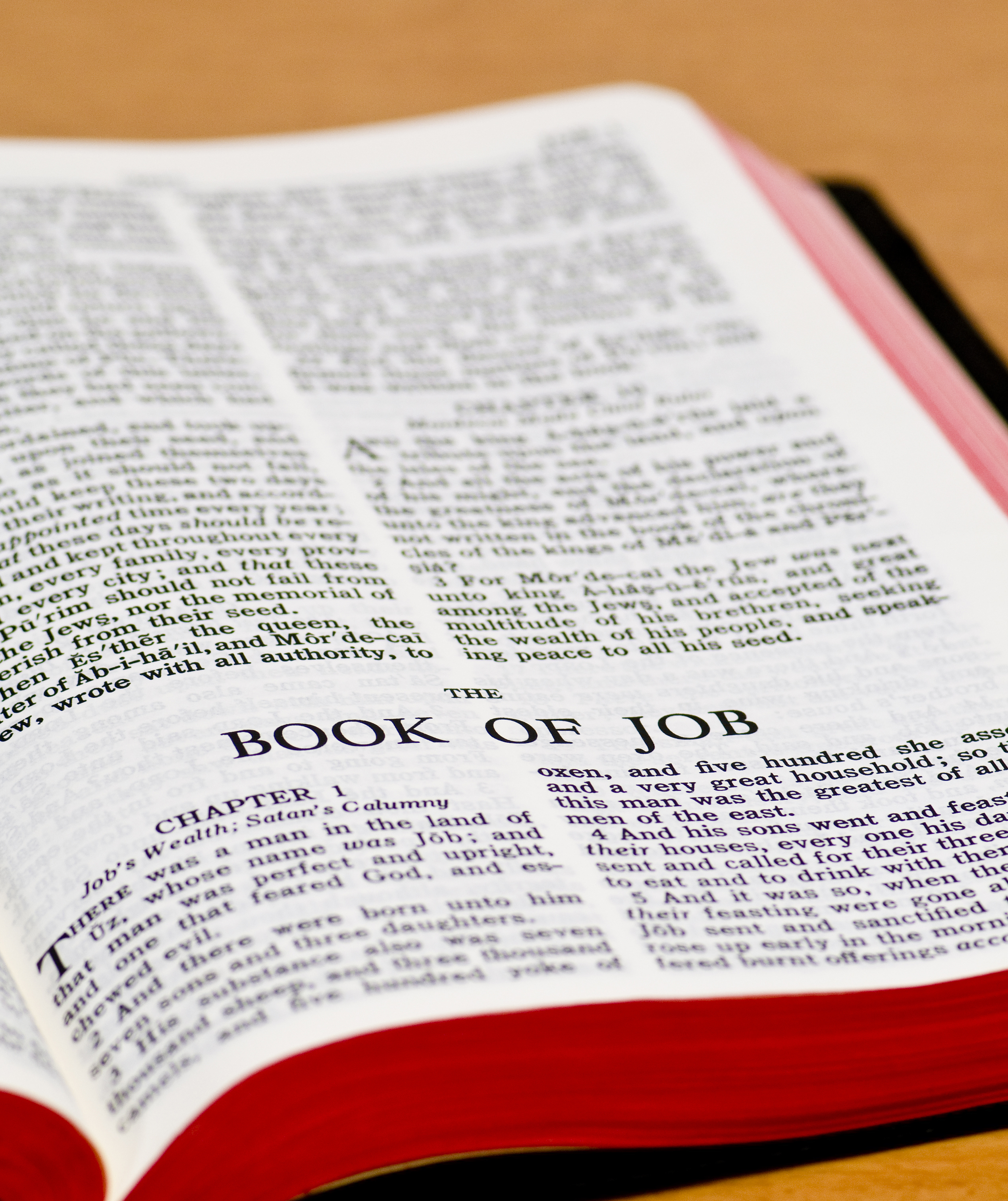 Part 1
Have you considered God's servant Job? He looked very good on the outside. What of the inside? Twice the Lord put this question to Satan. In both, Satan sought to overthrow Job. Our purpose is the reverse, to build us up and stand firm.
Job is the oldest book in the Bible. There is no mention of the law, therefore written before the time of Moses; mention of the Almighty, therefore at an earlier time. Why is it important to see the early date? For the simple, blessed reason, the Lord wants us to learn two lessons.
The first lesson to learn is that God has the victory over DEATH (Read Job 19:25-27). "I know that my Redeemer liveth, and that He shall stand at the latter day upon the earth; and though after my skin worms destroy my body, yet in my flesh I shall see God, whom I shall see for myself, and my eyes shall behold.
Job wanted everybody to know it. (vs.23-24).
Written in a book, printed
Not a book only, but given on a rock
Lead engraved
Forever!
A simple clear message, about 4,000 years ago. Of course there are other witnesses, Hosea 13:14:
O death, I will be thy plagues
O grave, I will be thy destruction
And above all, our beloved Lord, after three days in the grave, arose from the dead, and the Holy Ghost sent down on Pentecost bears Divine testimony to the truth, and confounds all opposition to the present day.
The second lesson of Job is confirmed in the epistle of James chapter 1:2. James is said to be the first epistle sent to the Christian Church . This again is clear and plain, "My brethren count it all joy when you fall into divers temptations" The message however is beautifully softened in chapter 5:11. "The Lord is very pitiful (polysplanchnos) and of tender mercy". In all our temptations let us never forget (none of us) have ever suffered like Jesus - "ever near to warm and cheer". "I have Christ what want I more?"
Job has three friends. They are worth noticing. Miserable comforts are ye all, physicians of no value (16:2; 13:4). Eliphas (4:8) tells of what he has seen. Bildad (8:8) of what he has heard. Zophar (11:6) thinks he has the secrets of wisdom. Doubtless they all had a good opinion of themselves as Job says: "Doubtless ye are the people and wisdom shall die with you"(12:2). Let us put them along side God's provision - Jer. 9:23-24, quoted in 1 Cor. 1:29-30 - wisdom beyond sight, history or man's imagination.
Part 2
In Job 32, when these three men had ceased to answer, a new character is introduced. A young man who wisely waited till the old men had ended. But he could remain silent no more. Job was not just in justifying himself. Elihu speaks of God's dealings with mankind. He often had to chasten (Job 33:4-22), but if there is an interpreter, one among 1,000 he can show God's graciousness - a gospel preacher delivered him from going down in the pit - I have found a ransom! These things worketh God twice - thrice - to bring back from the pit. Heart warming - the light of the living! Little wonder that gospel preachers find much to encourage in reading this section of Job - but I hasten on…. How wonderful are God's ways! How wonderful are the results. Joy in heaven and earth also.
Part 3
After conversion we are put into the School of God. The Lord tests us by a series of questions, who teacheth as He? Let us look at a few of the questions.
Job 36:26: God is great neither can the number of His years be searched out;
36:29: Can any understand the spreading of the clouds or the crashing of His pavilion?
36: 32: He commandeth where the lightning is to strike;
37:5 He thundereth marvelously, doing great things which we cannot comprehend;
37: 12: The clouds do whatever He commandeth,
37: 13:It (the clouds) is a rod, or for his land, or in mercy
37:14:

Job stand still

, and discern the wondrous works of God!
37: 21: Men see not the light as it gleameth!
37: 22: With God is terrible majesty;
37:23: The Almighty, we cannot find him out; excellent in power, and in judgment, and in abundance of justice, He doth not afflict.
37: 24: Men do therefore fear Him; He respecteth not any that are wise of heart
Then in chapters 38-40 Jehovah answers Job directly with a series of questions, please review each section and total them for yourself:
Job 38:1-11____________
38:12-15: ____________
38:16-18: ____________
38:19-21: ____________
38:22-30: ____________
38:31-38: ____________
38:39-41: ____________
Total: _____________questions
In chapter 39 The Lord uses various animals and birds for teaching and I would ask you to list them and observe the wisdom of God in creation
39:1-4: ____________
39:5-8 ____________
39:9-12____________
39:13-18 ___________
39:19-23 ___________
39:26-30 ___________
Total: ___________ different animals
Chapters 40:1-2 Will Job contend with the Almighty?
40:3: Job answers Jehovah and said;
40:4: Behold I am nought, what shall I answer thee?
40:5: Once I have spoken and I will not answer yea, twice, but I will not answer;
Job has been brought to realize himself.
Chapter 40:6-7 Jehovah answered Job out of the whirlwind and said, "Gird up thy loins like a man and inform thou Me."
40:8-24: Answer Me!
40:15: See now this behemoth. Who is he?
41:1: Leviathan, who is he?
Obviously 2 animals to be feared!
41:6: Remember the battle - do no more
41:25: The mighty are afraid
Chapter 42 Job answers Jehovah
42:2: I know that thou canst do everything
42:3: I have uttered what I do not understand, things too wonderful, which I knew not
42:5: I have heard of Thee by the hearing of the ear, but now mine eye seeth thee
42:6: Wherefore I abhor myself and repent in dust and ashes!
This is the grand objective to which Jehovah has worked and still works, to bring men to the knowledge of the greatness and glory of Himself. And so:
He prays for his friends, who bring their offerings;
Jehovah gave Job twice as much as he had before, his daughters, whom he never lost (1:19), excelled in beauty and Job gives them inheritance;
Job lived to a good old age and saw his sons and their sons - 4 generations;
Job dies, old and full of days!
A grand conclusion for all who give attention to the story of Job!