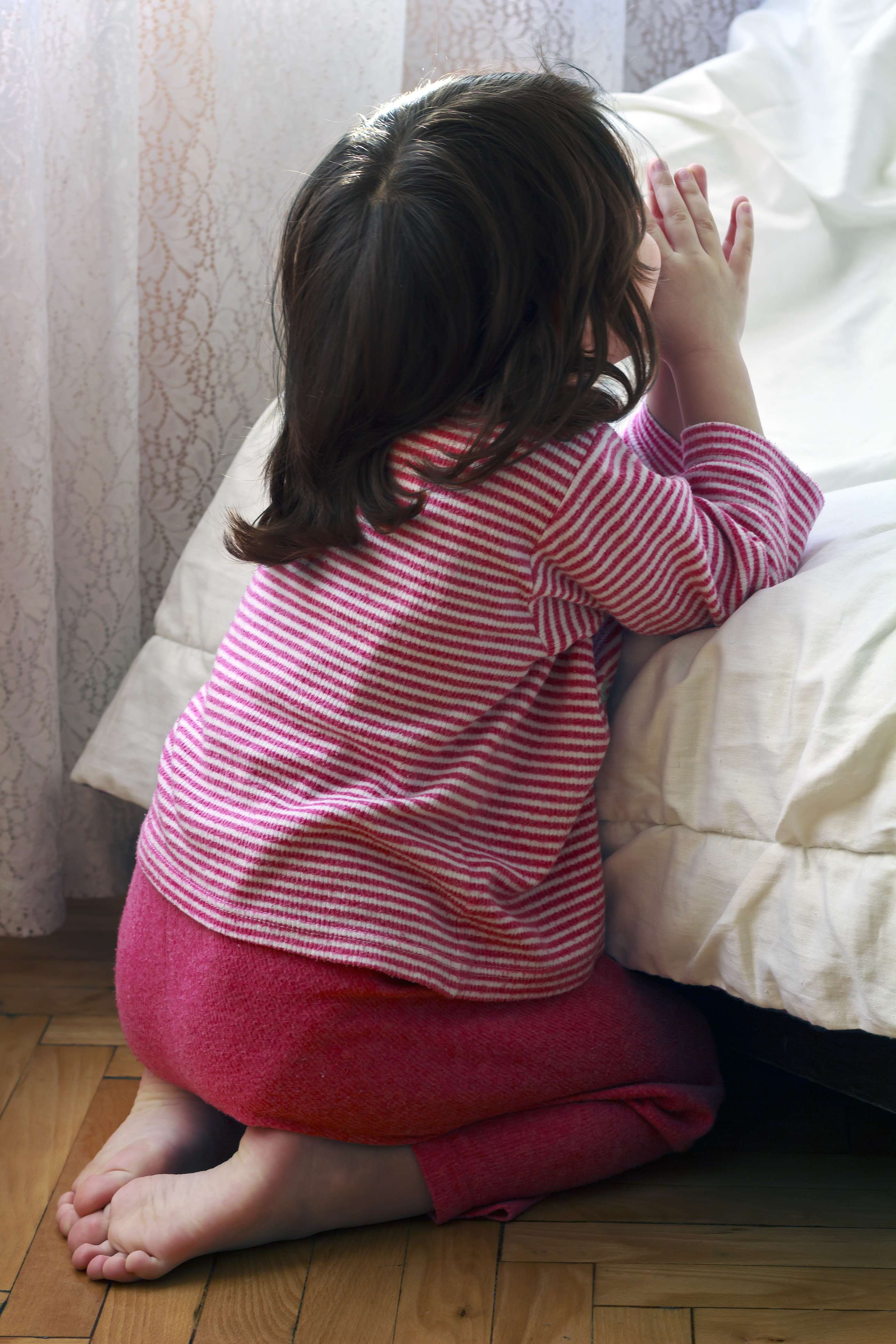 Reading God's Word and Praying are two things of inestimable significance, especially since they are closely connected with one another. If one only reads the Word, neglecting prayer, then cold pride and conceit will be the result. If one only prays, neglecting the Word, then fanaticism and all the blindness that is ever connected therewith will be the result, for the thoughts of God will not be known. Indeed, the fact that one does not search God's Word is evidence that one has no interest in the thoughts of God and in His interests. The prayer life will then be dominated by self-will, and the "I" will be at the center of all - be that "I" ever so piously disguised, as, for example, by being zealous for evangelism or for other things. Only when prayer goes together with serious study of God's Word will it be to the great blessing of the spiritual life.
In Scripture also, great emphasis is put upon prayer. The Lord Jesus began His ministry with prayer (Luke 3:21). The assembly was formed and three thousand men were converted after a ten day long prayer meeting (Acts 1:13-14). The great work among the heathen began in connection with prayer (Acts 13:2-3). And according to God's Word, the entrance of the gospel into Europe was likewise closely connected with prayer (Acts 16:9-13). The twelve apostles gave up a part of the work they had been doing until then, that they might give themselves up "to prayer and the ministry of the word" (Acts 6:4). When we read the Acts it seems as though Paul spent all his time preaching, but when we read the epistles it seems as though he did nothing but pray all the time. See, for example, Romans 1:9-10; 1 Corinthians 1:4; Ephesians 1:16, 3:14; Philippians 1:4; Colossians 1:3,9; and 1 Thessalonians 1:2. And God's Word tells us to be "praying at all seasons" (Ephesians 6:18), and "Pray unceasingly" (1 Thessalonians 5:17), besides what we are told in scores of other passages.
Prayer is the sign of new birth. Praying is not the same thing as "saying a prayer." Thousands of prayers are said daily - just as once there was an account of a worship service in an American newspaper which read: "His was the best sounding prayer that was ever directed at a Boston congregation." So too the Lord Jesus said of the Pharisees that they "as a pretext make long prayers" (Mark 12:40).
Only true believers can really pray. Prayer is the expression of the new life which is of God, and which is conscious of its dependence upon its Source. This does not mean that God never answers the prayers of an unbeliever! God hears the croaking of the young ravens and gives them their food, and so God sometimes also answers unbelievers if they are upright in their prayers. We have only to think of Genesis 21:17 and Jonah 1:14.
But, although Paul as a Pharisee had doubtless spoken hundreds of prayers, and had without doubt spoken them in uprightness, when he had been converted the Lord told Ananias: "Behold, he is praying" (Acts 9:11). That was the evidence that he had been changed, the sign that he had received a new life: one that was dependent upon God.
The new life feels its dependence and expresses it just as a newborn baby does - sometimes in cries unintelligible and unattractive to its parents. But God understands the incoherent and often unwise pleas. To His fatherly heart they are the sign that this new life is conscious of its dependence, and according to the riches of His fatherly love He gives good things to the one praying.
Prayer is not only for experienced believers. But if young converts do not yet know how they should pray, or whether that which they ask for is good or not, should they not then wait before praying?
The Thessalonians had only been saved a few months when Paul wrote his first epistle to them. Yet he says to them: "Pray unceasingly" (5:17). More than that? He, the great apostle, through who's preaching they had been converted, and who was now instructing them in the thoughts of God, laid great value upon their intercession. "Brethren, pray for us" (5:25)!
From this we can see what great value prayer has and how much God appreciates it. Could there be parents who would not want their children to speak to them nor ask them for anything because the children had not yet learned to speak properly, or might sometimes ask for things which they as parents would not be able to give them, because these things would be harmful to the children? So God is delighted when His newborn children approach Him in confidence to make known to Him all their needs. It is His joy to answer these prayers, and though His love will not always permit Him to grant every request, because things harmful to the one praying may have been requested, yet He does grant His peace to the heart of the one praying. "Be careful about nothing; but in everything, by prayer and supplication with thanksgiving, let your requests be made known to God; and the peace of God, which surpasses every understanding, shall guard your hearts and your thoughts by Christ Jesus" (Philippians 4:6-7).
The certainty of answer to prayer. Romans 8:31-32 tells us that God is for us, and that He who has not spared His own Son, but delivered Him up for us all, shall with Him grant us all things. And the Lord Jesus says in John 16:27, "the Father himself has affection for you."
If the Almighty God is for us and loves us and wants to give us all things, what a power prayer then is!
But this isn't all! In John 14:13-14 the Lord Jesus empowers us to pray in His name and promises also that He will answer such a prayer. In John 16:23 He adds, "Whatsoever ye shall ask the Father in my name, He will give you." There is, then, not a single limitation, not one uncertainty.
This is also plain when we trace the life of the Lord Jesus in Scripture. In Psalm 109:4 the Lord said that in His life upon earth He was prayer. This characterized Him. He was true man, and true humanity is dependent upon God. God the Creator has not created man as an independent being. Thus, if man is not dependent upon God, he is dependent upon the devil.
In the Lord Jesus we find true, perfect humanity, and therefore, too, we find complete dependence. In Isaiah 50:4 He says, speaking of God: "He wakeneth morning by morning, he wakeneth mine ear to hear as the instructed." And in the gospels we find His prayer life.
In Luke the Lord is presented to us especially as the true Man, as the Son of Man. In this gospel we find the Lord praying eight times, sometimes for a whole night (see Luke 3:21; 5:16; 6:12; 9:18,29; 11:1; 22:41; and 23:34). Seven times we see Him praying during His public ministry before the cross, and once while dying upon the cross. It is wonderful to consider the circumstances in which the Lord prayed. They are full of important teaching for us, and our hearts are filled with adoration. But I do not want to speak about this now. I only point out that the Lord Jesus, who prayed so much, could say, "But I knew that thou always hearest me" (John 11:42). Every prayer of His is answered - even if it was a question of raising from the dead one who had been buried four days already - and the Lord Jesus knew this beforehand.
Twice God testified of Him: "Thou are my beloved Son, in thee I have found my delight," and both instances are connected with the Lord Jesus praying (Luke 3:21-22; 9:35; compare with Matthew 17:5). The Lord Jesus said, "My food is that I should do the will of him that has sent me, and that I should finish his work" (John 4:34), and "I do always the things that are pleasing to him (John 8:29). This is why God could answer every one of His prayers, for everything that He requested was fully according to the thoughts of God and had the glorification of God in view.
When we, therefore, pray in the name of the Lord Jesus, it is certain that our prayer will be answered; for our prayer comes to God as if it were a prayer of the Lord Jesus Himself, and this is always answered.
What is prayer in the name of the Lord Jesus? We might well ask ourselves this question, now that we have seen what results such praying has. It means to pray to God in the name of the Lord Jesus.
Is this to say that we utter a prayer in which we ask for everything that we feel necessary, and then at the end say, "We ask this in the name of the Lord Jesus? Often this is what people think and do, to be sure, but this does not make it right.
Praying in the name of the Lord Jesus means praying in His place, vested with His authority and His rights. But then our prayer must bear the characteristics of the praying of the Lord Jesus, too.
If someone goes to a bookseller and asks for a Bible in the name of someone whom the bookseller knows to be a devout Christian, the bookseller will at once be inclined to believe him. But if he should ask for a deck of cards or for some trashy novels, the bookseller would not believe him. Why? Because the bookseller knows the believer, he knows that he would not be ordering such things, and thus that the person making the request is not coming in the name of the believer.
Thus, too, prayer in the name of the Lord Jesus must bear the characteristics of the praying of the Lord Himself - perfect dependence - and thus prayer that has the glorification of God in view and is in perfect accord with His will.
Conditions for Answered Prayer In John 15:7 the Lord says: "If ye abide in me, and my words abide in you, ye shall ask what ye will and it shall come to pass to you."
Here we find the broadest assurance that God will grant whatever is prayed for. No exception is made at all. Can there be more than "what ye will?" "Ye shall ask what ye will and it shall come to pass to you!"
But this assurance follows upon, "If ye abide in me, and my words abide in you." This is the condition which must be met if we want to be certain that our prayers will be answered. If we abide in the Lord Jesus, we shall ever become more conformed to Him. If His words abide in us, our feelings, the things in which we are interested and that which we want, will be in harmony with His feelings, His interests, and His will. And we know that these all are in perfect harmony with the will of God. And so this same promise is also given in John 16:23-27, "because ye have had affection for me, and have believed that I came out from God!"
Hebrews 11:6 gives us yet another condition. "He that draws near to God must believe!" "But let him ask in faith, nothing doubting. For he that doubts is like a wave of the sea driven by the wind and tossed about; for let not that man think that he shall receive anything from the Lord" (James 1:6-7).
God answers faith! How can He answer a prayer if the one praying does not even have enough confidence in Him to believe that God will do what he has asked?
In Matthew 21:21-22 the Lord says the same thing. But He adds that there must be evidence of faith. A tightrope artist once walked a rope which spanned the Niagara Falls. He went across again with a wheelbarrow and still again with a life-sized doll. Then he asked the spectators whether they believed that he could carry a living man across too. They all cried out, "Yes!" But when he called for a volunteer whom he might carry across, no one had that courage.
This is why the Lord Jesus does not only speak about faith, but also of the evidence that one has faith, evidence manifested by saying to the mountain, "Be thou taken away and be thou cast into the sea.
Hindrances to Answered Prayer. How does it happen that so many prayers are not answered? Scripture gives us various reasons.
Daniel 10 shows us that prayers which are good still are sometimes not immediately answered. The devil tries with all his might to prevent their being answered. Ultimately he cannot do this, but if God allows it he is well able to slow down a direct answer. And God sometimes permits this in order to put our faith and our perseverance to the test.
However there can be reasons within us why God cannot answer our prayers. In Isaiah 59:2 Israel is told: "Your sins have hid his face from you, that he doth not hear." The Psalmist says: "Had I regarded iniquity in my heart, the Lord would not hear" (Psalm 66:18). And in 1 John 3:21-22 we read: "If our heart condemn us not, we have boldness toward God, and whatsoever we ask we receive from him, because we keep his commandments, and practice the things which are pleasing in His sight."
Scripture mentions various things by name, things that cause our hearts to condemn us, and that keep our prayers from being answered.
In Mark 11:22-26 the lack of a readiness to forgive is mentioned (see Ephesians 4:32). Our approach to God is based on the fact that God has forgiven us all our sins in Christ. How then can we have boldness if we do not from our hearts forgive everything that another has done to us?
James 4:3 says: "Ye ask and receive not, because ye ask evilly, that ye may consume it in your pleasures." If we ask God for things in order to gratify the lusts of our hearts, the desires of the old nature - how can God give us these things? God hates the old nature and has judged it upon the cross (Romans 8:3). He calls upon us to reckon ourselves dead to sin (Romans 6:11), and to put to death our members which are upon the earth (Colossians 3:5-17). "But they that are of the Christ have crucified the flesh with the passions and the lusts" (Galatians 5:24). Doesn't asking for these things indicate already that the words of the Lord Jesus have not been abiding in us (John 15:7)? And doesn't it indicate that our inclination is completely contrary to that of the Lord Jesus and to the thoughts of God?
1 Peter 3:1-7 gives another reason. Relationships in the family life (between husband and wife, between parents and children, between the children one with the other) can be such also as to hinder the answering of prayers. How can we have boldness toward God when everything is not in order in our families, when there are still questions there that have not been settled?
Praying according to His will. Yes, we must first judge ourselves in the light of God, and confess all that is not good to the Lord, and in so far as men are concerned, before men, thus cleansing ourselves by self judgment. Then we shall obtain boldness before God.
But then, if we want to be sure to receive that which we request, we must ask according to His will. And how do we know what the will of our Father is? He has shared His thoughts with us in His Word, and, when we walk in daily fellowship with Him through the Holy Spirit we will get to know His thoughts from His Word. This is why daily study of His Word is so important. How can God, for example, answer a prayer in which something is requested that He has already given long ago - for example, an outpouring of the Holy Spirit, when Scripture expressly teaches that the Holy Spirit has been poured out and now dwells upon earth in the assembly and in each believer individually! Or if we should ask that He deliver us from indwelling sin, when He already has judged this in the Lord Jesus upon the cross (Romans 8:3; 2 Corinthians 5:21)!
Through the Word and in daily fellowship with the Lord we learn to know the will of God. And thus we can pray according to His will, so that we can have the assurance that our prayers will be answered.
Pray Unceasingly. So, can only well-advanced believers who have thoroughly studied God's Word pray?
Fortunately not! Would parents tell their child that he might not ask them for anything until he were grown up, because the child still spoke awkwardly and sometimes asked for foolish things? Oh, no! They are glad when their child comes to them with his requests. That is evidence that the child is convinced that they are his parents, that he cannot do without them, that he has confidence in them, too, and that he is convinced that they love him and care for him - though perhaps not fully conscious of all this.
God our Father listens with deep joy to our voices when we come to Him. Are we not His children? Of Paul, who had just been converted, He said, "Behold, he is praying." He had the apostle Paul write to the newly converted Thessalonians: "Pray unceasingly!" And this great apostle, through whose preaching perhaps millions had been saved by that time already, and who had received special revelations by which the full counsels of God had been communicated to him, yes, who had been in the third heaven and in paradise had heard unspeakable things (2 Corinthians 12:2-4) - this apostle was so convinced of the power of the prayers of these new converts that he requested of them: "Brethren, pray for us" (1 Thessalonians 5:25).
The clearest evidence that a believer is growing is undoubtedly when he sees more and more the importance of prayer - yes, that without prayer everything is worthless.
God our Father tells us: "In everything, by prayer and supplication with thanksgiving, let your requests be made known to God." And if we should perhaps ask for foolish things then, so that His love cannot grant them to us, yet "The peace of God, which surpasses every understanding, shall guard your hearts and your thoughts by Christ Jesus" (Philippians 4:6-7).
May the Lord grant that all of us will see the value of prayer more and more, and consequently use this infinite privilege more. How happy our hearts will be and what a testimony will flow forth from our lives.